Yuyi Morales. photograph by Tim O'Meara
From my brown slanted eyes, which I inherited from my Mixtec indian grandfather, down to my cracked and callused feet (from wearing too many huaraches) I look exactly like what I am, a native of Mexico. But, what is my immigration story? Legal or illegal? Could you tell the difference?
Our stories are diverse, rich, some are sad and many are courageous. Documented or undocumented we leave things and people that we love behind and with us we bring our dreams.
Here a four children's book with immigrant stories worth reading. Enjoy.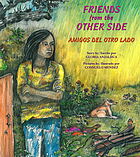 Friends from the Other Side/Amigos del Otro Lado
. By Gloria Anzaldual and Consuelo Mendez Castillo. This is one of my first books about immigrants I found in the library when I first arrive to the USA. I remember thinking how much Prietita's cardboard and metal house looked like the houses of many people I know in my country.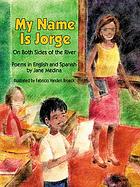 My Name is Jorge on Both Sides of the River
, by Jane Median and Fabricio Vanden Broeck. My favorite piece from this book, which also makes me feel sad when I read, is the poem titled Why am I Dumb?:
Why am i dumb?In my country
I was smart. All tens!
Never even an eight!
Now I am here.
They give eC's or D's or F's
--like fives...
or ones.
I feel like I'm turning into Kiko
from my old class.Kiko's dumb in any country.
Well,
I's still smart
in math.
Maybe dumbin reading. But math--
--all tens, I mean
A's.
My Shoes and I
, by Rene colato Lainez and Fabricio Vanden Broeck. This is a story about crozing the border of trhee countries and the faith of a boy in his new shoes that will him to be reunited with his family. La Linea
, by Ann Jaramillo. This book weaves the tale of a harrowing journey of two Mexican children trying to reach their parent in California. An impressive eye-opener novel.
And you, what is you story?